Discover the Vivente Plus: An Enhanced OptiFlame Fire Experience from Dimplex
5 min read
The latest addition to the Dimplex OptiFlame collection is here! Allow us to introduce the Vivente Plus, a beautiful fireplace featuring enhanced flame technology and a range of new features to enrich your living space. Whether you're seeking a warm and cozy ambiance or simply want to enjoy a realistic flame display, the Vivente Plus has everything you need. Let's explore some of the exciting new features of this innovative product.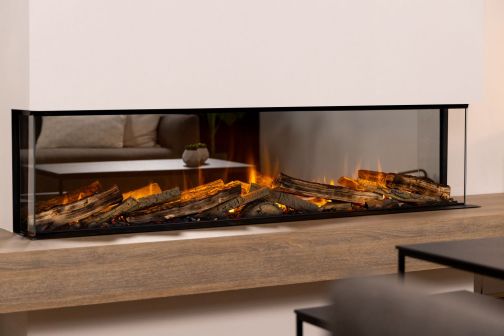 Bright and Realistic Flame Experience: OptiFlame Technology at Its Best
Experience a flame display that is bright, realistic, and enchanting. The Vivente Plus utilizes the latest and most advanced OptiFlame technology to create a flame experience that captivates your senses. But that's not all. What truly sets this fireplace apart from its direct competitors is the added crackling sound of a real fire. This sound effect enhances the flame experience, immersing you in the warmth of a fireplace. With an authentic log set and updated decorations, the Vivente Plus provides an even more lifelike flame experience, without the mess and hassle of a real wood fire.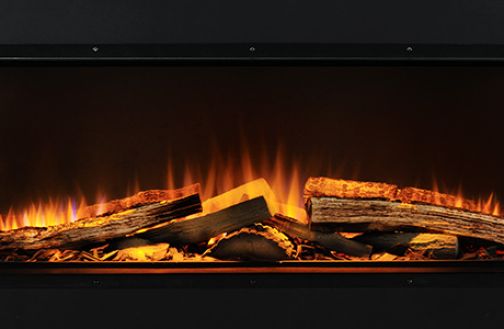 Versatile Options: Choose Your Decorative Style and Size
The Vivente Plus offers you the ability to customize the fireplace to meet your specific needs and preferences. With options for a 1-, 2-, or 3-sided decorative fireplace, you can make a statement, accentuate a corner, or create a spectacular centerpiece. This versatile fireplace seamlessly fits any space and interior style. Furthermore, the Vivente Plus comes in three different sizes: 75, 100, and 150 cm. Whether you have a cozy living room or a spacious dining area, there is a Vivente Plus size that perfectly suits your requirements. With the right proportions and scale, the fireplace becomes a harmonious element of your interior.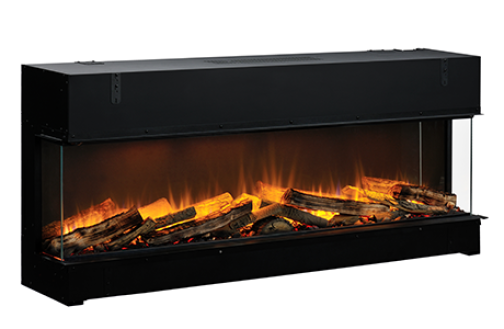 Eco-Friendly and Energy-Efficient: Comfort and Savings Combined
Indulge in a fireplace experience that not only provides warmth and comfort but is also eco-friendly and energy-efficient. The Vivente Plus boasts the most advanced combination of comfort and sustainability. With SmartSense technology, the fireplace detects movement in the room and automatically turns off when no one is present, ensuring both peace of mind and energy savings. The Comfort Saver feature of the 1.5 kW heater even offers up to an 11% reduction in energy consumption compared to other models on the market.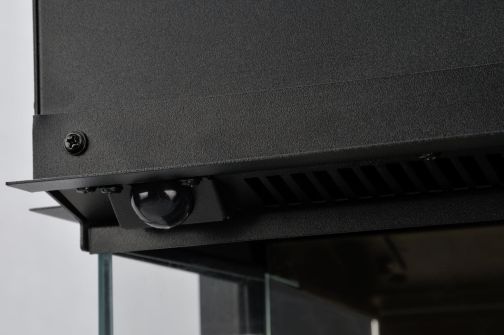 Personalize Your Ambiance: Utilize the Flame Connect App
With the Vivente Plus, you have complete control over the ambiance in your living space. Thanks to the Flame Connect app on your smartphone, you can fully customize your fireplace experience. Whether you want to create your own unique flame theme or choose from one of the eight pre-designed lighting themes, the possibilities are endless. With just a few taps on your phone, you can create the perfect atmosphere that suits your taste and the occasion. Whether you desire a romantic evening at home or a cozy gathering with friends, the Vivente Plus brings your desired ambiance to life.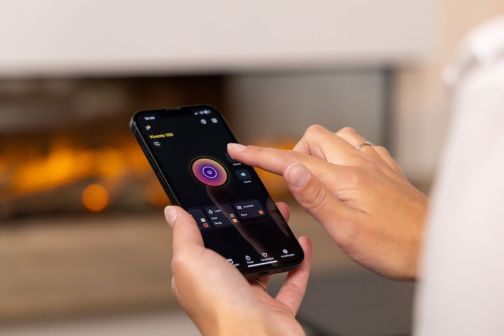 Experience the magic of the Vivente Plus and indulge in an enhanced OptiFlame fire experience. With its eco-friendly features, bright flame display, customization options, and versatile choices, this fireplace is the ideal choice for comfort, style, and sustainability.

Dimplex Optiflame®
Enjoy the unique flame effect of your Dimplex fireplace at home. Easily adjustable and the logs really seem to be alive. This is possible with the patented electrical 'Optiflame® technology'.
2 mins read