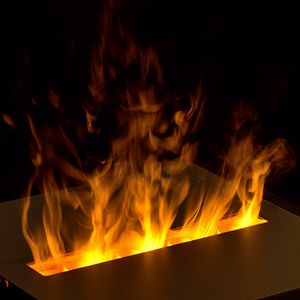 Dimplex Optimyst®
5 min read
You keep looking at it! The Optimyst® fire image puts an end to the 'flat fire image' in electric fireplaces. Dimplex has developed a 3-dimensional fire image with smoke effect. Electric fire has never burned so realistically.
Friendly to use
You can place electric fireplaces wherever you want. Just plug and play. They are friendly to the environment, easy to use and safe for children's hands. However real the fire image may seem, the fire does not get hot. It is advisable to replace the transducer in the fireplace, depending on the use, at least once a year.
Only electricity and water is needed
A water reservoir, LED lighting, heat and an evaporator create revolutionary flames, indistinguishable from real fire. The fireplace burns for 8-10 hours on a full reservoir. In addition to the existing options, the Cassette 500 and 1000 Optimyst also have the option of connecting the reservoir to a fixed water connection. This series of Optimyst Cassettes is also very suitable for linking together. The fire image continues to run. It gives the possibility to create any desired setting.