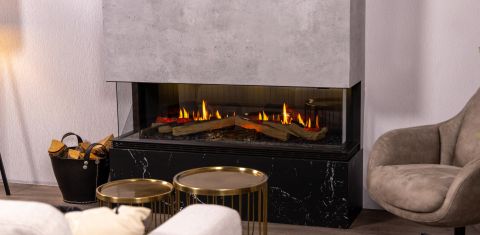 Discover the Latest Developments in Dimplex's Opti-Virtual Fireplace Technology with the Vista 70 & 130
5 min read
At Dimplex, we are constantly driven to explore new possibilities and pioneer in the world of electric fireplaces. We always strive to innovate our technologies and surprise our valued customers with groundbreaking developments that transform living spaces and bring warmth and coziness. As the founder and patent holder of Opti-V technology, we proudly introduce the Vista, a unique fireplace that offers the most authentic fireplace experience without the traditional drawbacks, setting a whole new standard in the electric fireplace market.
New: Vista 70 & 130
We are proud to introduce the Vista 70 and Vista 130 fireplaces, where the enhanced Opti-V technology truly shines.
Using advanced LED lighting and a unique projection system, the Vista 70 and Vista 130 fireplaces create a stunningly realistic fire effect. The dancing flames and subtle shadows add depth and dimension to the fire, allowing you to immerse yourself in the atmosphere of a real wood-burning fire. Additionally, these fireplaces offer thermostatic heating functionality for optimal comfort and are easy to install in any desired space.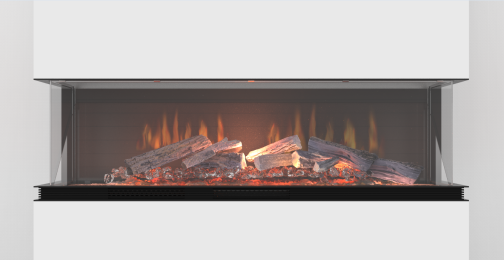 With the Vista 70 and Vista 130 fireplaces, we demonstrate Dimplex's leadership in electric fireplace technology. We continue to strive for innovation and deliver high-quality fireplaces that bring the ambiance and warmth of a real fire to any living space. With the enhanced Opti-V technology and impressive features of the Vista 70 and Vista 130 fireplaces, we set a new standard for electric fireplaces and provide our customers with a unique fire experience.
Read below to discover what else the Vista has to offer.
Enhanced Viewing Experience
One of the remarkable features of the Vista is its enlarged viewing window, reaching an impressive height of 40 cm. This expansive window provides a panoramic view of the enchanting flames, fully immersing you in the magical atmosphere created by the Vista. Moreover, the high-quality glass front adds an additional aesthetic value, making it a beautiful centerpiece in any living space. With this revolutionary development, we take the pleasure of viewing to a whole new level and allow you to enjoy an unparalleled visual experience with the Vista.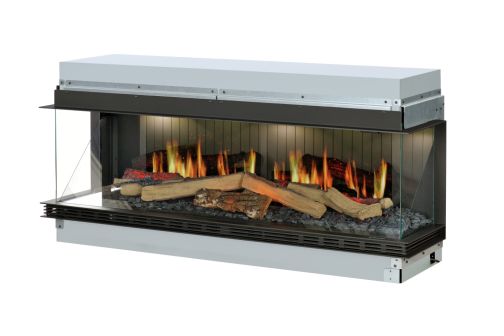 Versatile Design Options
Dimplex understands that every home is unique, which is why we offer both three-sided and one-sided options to accommodate different architectural layouts and personal preferences. Whether you desire a fireplace that seamlessly integrates into a corner or one that takes center stage on a flat wall, the Vista provides versatile design choices that complement your specific needs. With these options, you can effortlessly create a customized and visually appealing fireplace arrangement that complements your interior style.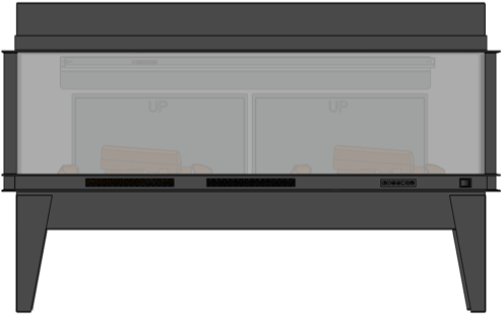 Realism and Functionality
Discover Dimplex's unparalleled woodset, specially designed to perfect the authentic fireplace experience down to the smallest details. With carefully crafted wood pieces, hand-placed by our experienced developers, we ensure that the flames always originate from the logs. With over 10 years of experience in Opti-V products, we know better than anyone how to create a truly immersive and realistic fireplace ambiance. To enhance the visual impact even further, subtle background lighting has been added, providing depth and vibrancy to the flames for an even more captivating and realistic experience.
To guarantee optimal performance and comfort, Dimplex has equipped the Vista with integrated thermostatic heating functionality. With this feature, you can easily control the temperature of your environment, allowing you to always enjoy a cozy and inviting atmosphere. This innovation allows you to experience the warmth and comfort of a fireplace without the hassle and maintenance associated with traditional wood-burning fireplaces.
User-Friendly Features
In line with our commitment to user-friendliness, Dimplex has introduced a new and improved remote control for the Vista. This advanced remote control provides intuitive operation, allowing you to effortlessly adjust flame settings, temperature, and other functions. With just the press of a button, you can create the perfect ambiance no matter where you are in the room, enhancing your overall fireplace experience. Additionally, we ensure ease of use and control with our integrated display. With just a few simple touches, you can set the desired temperature, adjust the sound level, and choose the perfect background lighting to create the right atmosphere. With this intuitive system, operating your fireplace becomes an enjoyable experience, allowing you to fully appreciate the warmth and ambiance it provides.
In addition to ease of use, we have not only revamped the remote control of the Vista but also optimized the installation and accessibility of our products. With our years of experience, we have developed innovative solutions to make the installation and maintenance of the Vista fireplace as effortless as possible, even when it is built-in. Our fireplaces are designed with serviceability in mind, ensuring installers and maintenance personnel have easy access to various parts and components. This not only improves serviceability but also simplifies the installation process, allowing you to quickly enjoy the warmth and beauty of your Vista fireplace. At Dimplex, we strive to provide not only the ultimate fireplace experience but also convenience and ease of use throughout the entire lifespan of our products.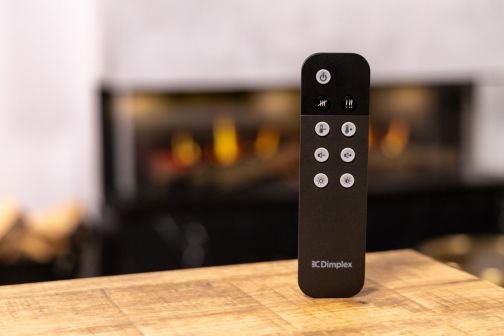 Opti-V Perfected
With over 10 years of experience in groundbreaking Opti-V technology, Dimplex aims to go beyond other fireplace manufacturers in this product range. With the Vista fireplace, we have created a unique masterpiece without any compromises. The expansive view of the fire, measuring a remarkable 130 x 40 centimeters and available in 1-, 2-, and 3-sided versions, offers a breathtaking fire experience. The sound of crackling wood and the beautifully illuminated back wall add an extra dimension to this ultimate fire experience. And all of this is achieved with a slim depth of less than 40 centimeters, without compromising on performance.
In addition to the visual spectacle, the Vista fireplace also adds thermostatic heating, providing additional comfort. Whether you need warmth or ambiance, the Vista always delivers. Moreover, this fireplace is an absolute eyecatcher in any home, thanks to the exquisite decorative elements and stylish design trim at the front. With the Vista fireplace, Dimplex sets a new standard and continues to lead the world of electric fireplaces. Let the Vista be the radiant centerpiece of your interior and enjoy the unparalleled perfection that only Dimplex can provide.

Dimplex Opti-Virtual®
A fire experience and illusion richer. Dimplex invests a lot of time in research and development of the ultimate flame effect for its electric fires. With Opti-Virtual®, Dimplex adds an extra category of decorative fireplaces to the collection of fireplaces.
3 mins read