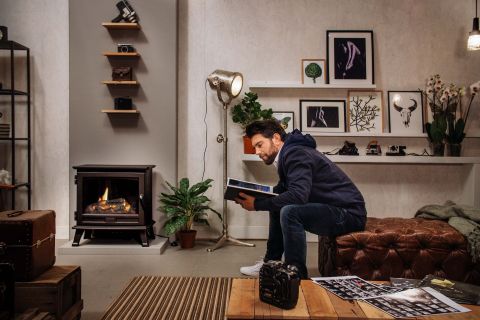 Dimplex Opti-Virtual®
3 min read
A fire experience and illusion richer. Dimplex invests a lot of time in research and development of the ultimate flame effect for its electric fires. With Opti-Virtual®, Dimplex adds an extra category of decorative fireplaces to the collection of fireplaces.
Although Opti-V® is an electric fire, it goes further by creating an illusion of fire with lifelike flames, crackling and sparks that even seem to jump away. The technique is based on Pepper's Ghost. A principle that manages to show 'appearances' as illusions and is mainly used at major attractions, on stage and in museums. Dimplex has refined the technology for the new Opti-V®, which can be easily installed in any room according to your own taste.

Suitable for areas with little supervision
The fireplace can be used and built in in your own way per room. It is the well-known 'plug and play' principle, but even simpler. Power is enough to make Opti-V® come to life. In addition to use at home, this makes the fireplace especially suitable for rooms where relatively little supervision is possible. Think of busy restaurants, cafes, company entrances, hotel lobbies or hotel rooms. The flames are lifelike!