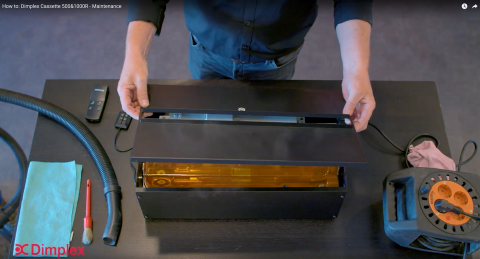 This is how you keep your Dimplex fireplace in top condition
6 min read
Do you have an electric Dimplex fireplace at home? With the right attention and simple maintenance, you can ensure that your fireplace is always 'fresh and ready' for the next cozy moment. We have listed a few practical tips to help you with that. Whether it's time for spring cleaning or not.
Maintenance tips for a Dimplex Optimyst® water mist fire
Do you have a Dimplex fireplace that works on water mist or Optimyst® system, such as a Cassette or Verdi? Then, depending on the use, a periodic freshening up pays off! Always follow the instructions stated in the manual and always switch off the main switch of the device during maintenance. Also useful: watch this maintenance video with explanation and tips! Let's get started! First of all, check that the flame lighting is working fully. Then it's time for the inside. Because by use, but also by standing still, dirt, dust or limescale can form in the interior, such as in the water tank, the opening for the water vapour (the nozzle) or in the underlying water reservoir (the sump). This can cause the fire's flames to be lower or unevenly distributed. The manual that comes with your product will show you exactly how to remove and replace these parts step by step. You can easily clean the loose plastic parts with warm water, a mild detergent and a soft brush. Before you place the clean parts back: immediately check the air vents at the bottom of the fireplace and carefully remove any dust with a soft brush and a vacuum cleaner. Is a part damaged or not working properly? Please contact a Dimplex dealer for repair or replacement. Finally, when the inside of your fireplace is clean, you also check the decoration and, if necessary, give the fireplace glass a streak-free polish on both sides.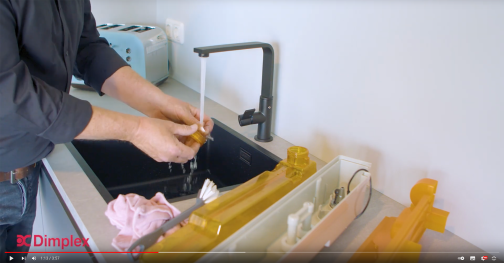 Maintenance tips for other Dimplex fireplaces
Dimplex fireplaces with an Optiflame® or Revillusion® system are virtually maintenance-free. An exception to this is the possibly present fireplace glass and in certain cases the decoration in the fireplace. For maintenance, always follow the instructions stated in the manual and switch off the main switch of the device during maintenance. Clean the glass on both sides with a mild detergent and a cloth. In the manual you can read how to safely remove and replace the glass. Before replacing the glass, remove any dust from the decoration with a brush, and do the same with the outlet openings of the heater, if any.
Do it yourself or have it done?
Would you rather not do this job yourself? Then ask your supplier or a Dimplex fireplace specialist about the options.
One last tip: don't forget to check the batteries of the remote control in time. This way you can be sure that your fireplace will provide that unique atmosphere at the touch of a button.
All is ready? Then: enjoy!